In The News
Name a song, and she'll sing it.
A huge repertoire testifies to singer
Judy Chamberlain's first love: jazz.
by Jon M. Gilbertson
Dallas Morning News
July 21, 2012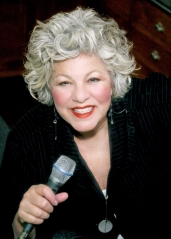 Singer Judy Chamberlain
Jazz singer Judy Chamberlain is a New York native, and up until about a year and a half ago, she lived in Los Angeles. Now she's in Dallas with her husband and pretty happy to be here.
"It's just a friendly, lovable place," she said in a phone interview. "Everyone has reached out to me here and I've been so lovingly accepted by the jazz community and the audience, which I did not know would happen."
Chamberlain must at least have known that her song list would pique the interest of even the most casual jazz fan. Her repertoire includes roughly 4,000 songs, from "Ain't She Sweet" to "Zing! Went the Strings of My Heart." Even if this number were halved, it would testify to an incredible memory.
"If I hear it, I remember it," Chamberlain says. "I have that audio recollection. It must be some kind of extra sense. And I've managed to collect guys who, if they've ever heard a song one time, they can play it. We can do a song someone calls out as if we've rehearsed and recorded it."
One of those guys was Al Viola, a jazz guitarist who worked on and off with Frank Sinatra from the late 1940s until 1980. (He died of cancer in 2007.) He compared her skills to those of Sinatra, but that was hardly the only inspiration he provided.
Singer taps into huge song list
"He maintained his chops so beautifully," Ms. Chamberlain says. "Two months before he died, he was still playing and had the dexterity of a teenager. He was so slick."
Slick could describe Chamberlain, who has been singing professionally since she was 13. Yet a little more than 20 years ago, she was employed as a newspaper columnist and a broadcaster on radio and television in Los Angeles. The consolidation and programming changes of media companies convinced her to get back to her first love.
"I decided I would turn it into a career," she says. "Because I wouldn't have anything else if I didn't, so I began doing it again in earnest."
Chamberlain and her band — pianist Mike Garvey, drummer Chris Holmes and bassist Jeffrey Eckels — are looking forward to chatting, as it were, to the crowd at Lakewood's Balcony Club on Tuesday.
"A conversation between the band and the audience, that's really what this is all about," she says. "That is the heart of this and what makes it worth doing."
Jon M. Gilbertson is a Wisconsin-based freelance writer.